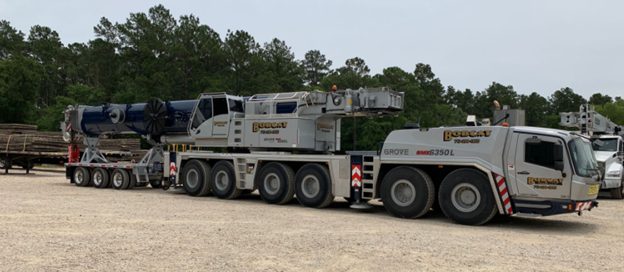 When it comes to construction projects, you'll almost always see a crane involved at one point or another, especially if it's a commercial construction project. This is because they provide a variety of services, everything from lifting heavy equipment to moving materials, and more. At Bobcat Contracting, we've helped many contractors with our crane rigging services and here we've collected some insightful and fun facts about the process.
Teamwork is Essential
Crane rigging requires teamwork to ensure it's done properly. This can include everything from having someone on the ground directing operations to various team members making sure no stone is left unturned before rigging begins. For example, the ground needs to be stable and there should be no unauthorized personnel in the area.
Crane Rigging Requires In-Depth Knowledge
In addition to working as a team, in-depth knowledge about crane rigging and operation is essential for a successful project. Those responsible for rigging need to understand the load capacity of their particular crane and have a working knowledge of the manufacturer's specifications, especially when lifting heavy objects and dealing with specific angles. This is because the load will need to be stable, and gravity plays an important role.
Inspections Are Key
Just like most heavy machinery and construction equipment, regularly inspecting your crane is key to a safe and successful rigging job. In addition to having periodic inspections by a team of crane repair experts, you should also inspect your crane before and after each use, looking for signs of any issues or wear and tear.
Safety Always Comes First
When it comes to crane rigging and operation, safety is always at the forefront. All crane operators need to undergo the proper training and boast the right certifications to operate heavy machinery. As mentioned previously, crane inspections before use are paramount; this includes inspecting the slings being used and other rigging materials that could cause issues.
Contact Bobcat Contracting for crane rigging services and more!
If you're in need of reliable crane rigging or crane rental services, contact the team from Bobcat Contracting today online or by calling (254) 582-0205. We also specialize in pipeline fabrication and electrical and instrumentation services, so contact us today!