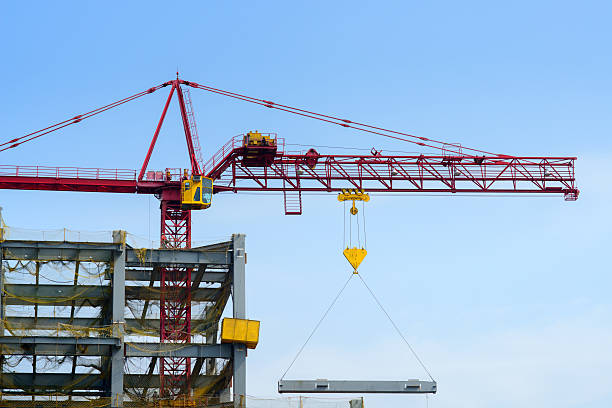 Mobile cranes are pivotal in meeting the rigorous demands of urban and infrastructure development, and manufacturers have taken note. They are shifting their focus towards crafting crane models that can keep up with market demand and the complexity of project sites. With the industry in flux, here are some of the biggest trends happening now that will shape the future landscape for crane and rigging services in the coming years as these cranes hit the market.
High Capacity Loaders: The New Standard in Crane Manufacturing
Increasingly, manufacturers are developing mobile cranes with impressive capacities, ranging from 35-ton models to heavy-duty cranes that can bear loads of up to 1,200 tons. These high-speed, all-terrain mobile cranes are equipped with long booms and enormous load capacities. They are perfect for both public road and off-road projects, thanks to their all-terrain chassis. Contemporary stiff boom cranes are available from 14 tons to 40 tons, boasting payload capacities of up to 37,000 lbs.
The Rise of All-Terrain Mobile Cranes
Interest in all-terrain mobile cranes is surging, largely attributed to their unparalleled accessibility and overflight proficiency. These cranes can function at soaring elevations up to 78 meters or reach out to a radius of 74meters, eliminating the need for jib rigging, which makes them perfect for erecting tower cranes. Although their footprint is compact, all-terrain cranes provide unrivaled visual perspectives from the operator's cabin, facilitating a holistic understanding of the work environment. Uniting the nimbleness of truck-mounted cranes with the agility of rough terrain cranes, these cranes stand out as one of the most adaptable and easily maneuverable cranes in the market today.
Advanced Mechanization: Key to Versatile Operations
Mobile crane manufacturers are revolutionizing the industry with advanced mechanized solutions. These solutions range from workstation lifting systems to industrial needs, providing smart features for various projects. New models are equipped with ground-level carrier controls that simplify fly assembly, offering greater control over material handling in production processes.
Efficient Fuel Consumption: Productivity and Sustainability
One of the latest trends in mobile crane manufacturing is the development of models with drive and control systems designed to reduce fuel consumption while maximizing reliability and productivity. An example is the ECOmode system, which automatically disengages the entire pump drive when the engine is idle and reactivates it in seconds using intelligent control when power is required. This innovative approach allows the engine to adjust its RPM according to the lifting requirements at the site, resulting in significant fuel savings.
Multi-Activity Slew Cranes
Cranes are no longer solely about operations; they now offer multitasking capabilities, finding application in all areas of infrastructure development and building construction. There is a growing demand for slew cranes, which are capable of lifting loads, suspending them in mid-air, and then rotating them. This gives mobile cranes z-axis capability and greater site versatility, making them an invaluable asset on crowded construction sites.
Mobile Cranes for Asymmetric Outrigger Positions
Groundbreaking hybrid versions now come loaded with advanced positioning mechanisms, enabling them to support both balanced and unbalanced track configurations during narrowed track width functions. These systems ensure superior lifting efficacy at any track width, making them perfect for cranes operating in tightly packed construction areas at less than the maximum track width. These modern variants come with a solo engine, an impressive top road speed, and unevenly distributed stabilizers.
User-Friendly Disassembly Systems
To meet axle load regulations and increase payload, manufacturers are focusing on weight saving methods. They are now providing removable outrigger boxes, boom removal kits, and boom float kits, which sometimes allow driving the boom over the rear on a dolly. These innovative features mean that users can easily disassemble certain parts of the crane, offering a level of flexibility and convenience not seen in previous models.
Contact Bobcat Contracting for Crane and Rigging Services
When it comes to top-tier crane and rigging services, Bobcat Contracting has your back. Our team is ready to provide you with the most innovative solutions, backed by the latest trends in mobile crane manufacturing.
Whether you require high-capacity loaders, advanced mechanized cranes, or multi-activity slew cranes, Bobcat Contracting has the equipment to meet your needs. We are committed to delivering safe, efficient, and sustainable services that exceed your expectations.
Get in touch with us to learn more about our crane and rigging services.