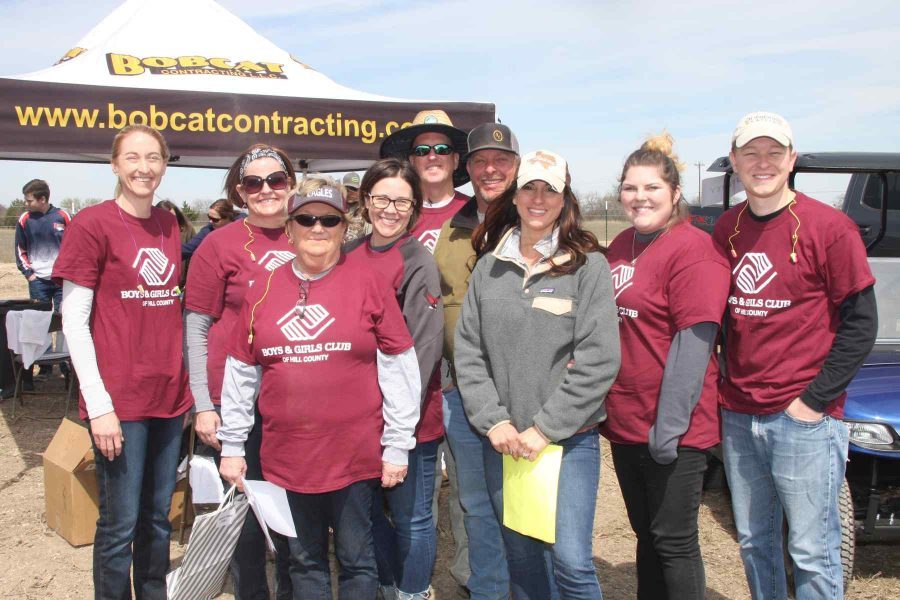 Bobcat Contracting LLC recently sponsored a sporting clay charity tournament to benefit Boys & Girls Club of Hill County. The 2018 Bobcat Contracting Shoot For Success was coordinated by Marc and Sara Young, along with a volunteer team, to raise $65,000 for the local club.
Twenty-one sponsors (mostly Hill County businesses) and 28 teams participated in the 10-station tournament with trophies award to the top three teams. First place went to MDH Services, LLC, second to Jerry Watson and Allen Eagles Competitive Shooting team, and third to Allen Eagles Competitive Shooting team.
Food and beverages were provided by GrayBar and Cyclone Services.
Volunteers pictured above are (L to R): Sally Divin, Lynn Garcia, Kathy Groppel, Kristi Hunter, Bill Siddons, Marc Young, Sarah Young, Cameron Steele and Preston McReynolds. Team volunteers not pictured include Rebeka Calhoun, Vivian Caldwell and Cody Smith.